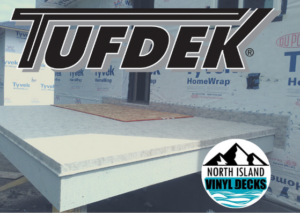 We are a certified Tufdek dealer for mid island and north. Contact us to learn more about the tear restistant fully heat welded (not glued) Tufdek installs we offer. Tufdek is a B.C. company and the Tufdek membrane and products are made in North America.
We also do wood and aluminum railings
We are looking forward to a busy 2023 season. Spots are filling up already. Contact us today, so you can be enjoying your new deck before the sunshine comes.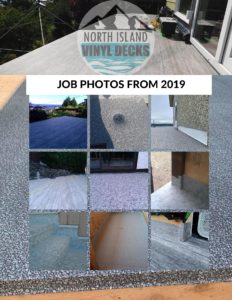 We have installed over 25,000 square feet of Tufdek in the Campbell River area
Check out our best sellers: Designer Plank Series and Aggregate from Tufdek!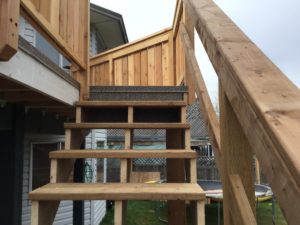 We are your complete decking contractor from start to finish weather your deck is covered in vinyl or wood
-Deck Removal
-Deck Rebuilds
-Cedar Railings
-Glass Railings
We are your worry free contractor insured for residential and commercial projects
ABOUT:
NORTH ISLAND VINYL DECK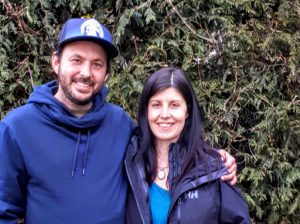 HI, we are
Matt & Eve the owners
North Island Vinyl Deck is a Campbell River authorized Tufdek dealer and installer. We Specialize and are factory trained in installing vinyl deck waterproof coverings. We excel at offering services such as building decks and patios, exterior maintenance, and siding installations. We are familiar and ready to tackle all of your exterior building needs from drain tile to siding all the way to a stubborn leaking skylight. Matt has apprenticed and worked his way through the trades since he was a teenager almost 20 years ago. He has completed the Red Seal Waterproofing and Damproofing certification, offered in a three year program by RCABC. Matt has always enjoyed working with his hands and got hooked on building wooden boats a few years ago. We our home owners ourselves and realize the need for trustworthy and honest contractors, who you the homeowner can trust to treat your home like their own. We complete jobs using quality materials and thorough application that will stand up to our west coast weather. We complete our jobs on time, safely, and on budget which makes the whole process stress free for you.