vinyl decking installer in Campbell River
TUFDEK Vinyl Decking products
15 year WARRANTY
Can only be installed by factory trained technician
Canadian Company located in Kelowna B.C.
Servicing homeowners and builders
Low maintenance, not slipper
Cost effective choice
Tufdek is the industry's leading manufacturer and supplier for waterproof vinyl decking. Tufdek can be installed on most outdoor living spaces including balconies, sundecks, roof-top patios, walkways, stairs and concrete.
Tufdek has the industry's most unique and sought after waterproof vinyl decking designs that are only available through authorized Dealers. At Tufdek we take great pride in offering not only the World's Strongest Vinyl Decking, but also quite simply, the best looking and best performing waterproof deck system available on the market today.
Every Vinyl Deck job we do, is installed by a factory trained technician and comes with a warranty backed by the manufacture.
Thinking or in need of a vinyl deck covering then please contact us for a quote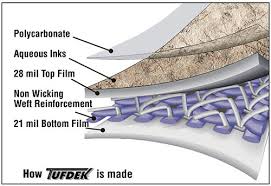 TUFDEK-Product Information
TUFDEK Waterproof Vinyl Decking products are long lasting and durable, adding beauty and value to your home, sundeck, or deck waterproofing project. Deck protection products are all about longevity and nothing delivers a longer life expectancy than Tufdek vinyl decking. Compare Tufdek against other vinyl deck flooring or liquid coatings and you will find Tufdek is your least expensive deck waterproofing option year over year.
Cool step floor protection for waterproof decking A
Cool Step is a vinyl decking that is light in colour and designed to be both highly reflective and highly emissive, transferring less heat into the building to keep your deck cooler for bare feet.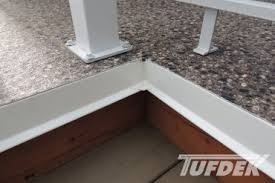 Tuff-clad pvc metal flashing
Tufdek examined the waterproofing details used in the roofing industry and discovered that laminated PVC metal flashings were commonly used for numerous details including edge terminations. To complete their vinyl deck waterproofing system, they created Tuff-Clad PVC metal deck flashings using their own proprietary 21 mil PVC film, having it custom milled and then factory laminated to a 24 gauge, G90.
At North Island Vinyl Deck we believe it's also good practice and looks sharp, to wrap the rim joist in the picture with a metal flashing. So no bare or painted wood is showing and susceptible to the elements.